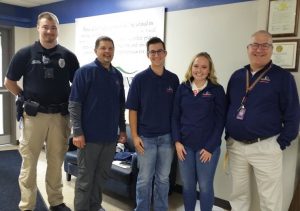 Youth courts are driven by the partnership between young people and adults. In the Buffalo/Pepin County Teen Court program that not only translates to teen offenders participating in the justice system, but also high school students serving as panelists, or peer judges. As panelists, youth manage hearings and providing feedback to other teens, coach and mentor younger panelists, engage in and help teach ongoing trainings and serve on the advisory board. As members of the Buffalo/Pepin County Teen Court Advisory Board, Ian Schneider and Emma Scharuth have the opportunity to share their perspectives, ones they have shaped from experience and observation, on Teen Court policy and intervention plans. "This youth representation is key to our [program's] success: Teen Court itself is an organization that is led by youth, for youth, so it only makes sense that the voices of youth are heard," said Scharuth.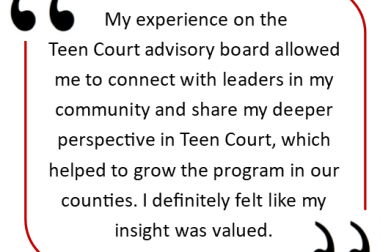 The youth representatives on the Teen Court Advisory have an equal place at the table with teen court coordinators, school administrators, law enforcement, juvenile justice clerks, social workers and the judge. Most recently, teen court panelists have worked together with the adult members of the board to review evidence-based online curriculums for teen offenders, advised professionals about their perceptions of youth risk behavior data, and helped communicate the impact of restorative measures in the program. Schneider said he was eager and appreciates the "opportunity to help give fresh insight and a different view into the issues and decisions made by the board."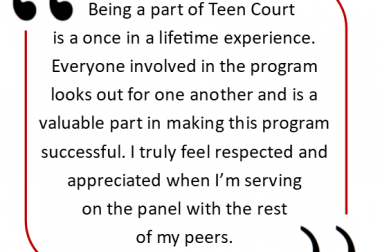 He sees the Teen Court Advisory Board as an effective youth-adult partnership that benefits the Teen Court program as "it provides teen court panelists with more opportunities to build leadership skills …[and] because it allows [panelists] to supply adult coordinators with ongoing feedback, which, by helping us help offenders, directly benefits our community." In many places in the juvenile justice system, youth voiced is minimized, but in Teen Court Schneider and Scharuth are advocates for all youth in the program. The Teen Court program is strengthened when youth and adults work in partnership in ways that assure accountability, foster authenticity and activism, and promote innovation.
Teen Court experience leads to a secondary pathway in family law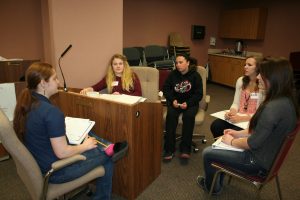 Linnea Zintman, a law school student at the University of Wisconsin-Madison, says a high school Teen Court experience set her future in motion. For three years, Zintman was an active panelist for the Buffalo/Pepin County Teen Court program. Panelists in Teen Court serve as peer jurors who review the facts of the case, question peer offenders during a hearing and assign offenders sanctions that intend to motivate a change in behavior. While Zintman knew she wanted to work in law at a young age, her participation in Teen Court as a panelist working with peer offenders in the juvenile justice system developed her interest in family law. Zintman said of her experience, "As a panelist, I questioned offenders often about their home life and saw the connections between family life and the offense that brought them to Teen Court. I became interested in how children are impacted by various issues of family law, and how the areas of family law and criminal law interact."
The appeal of exploring the intersectionality of law and the desire to study the socio-ecological model in a real way pushed Zintman to earn an undergraduate degree at UW-Green Bay and then to apply to UW-Madison's Law School. In 2020, Zintman joined the University of Wisconsin-Madison's Family Law Project clinic, where she works with incarcerated individuals assisting them with family law issues. Zintman knows that her affection for family law and her aspiration to be "an advocate, especially for children, who are impacted by family law," grew out of her primary restorative justice experiences in Buffalo/Pepin County Teen Court.